Day 29 - Ness City KS to east of Larned KS, 84 miles, 5:34
Christ Pilot Me, one man's witness on a hill. We came around the corner and there it was, just like it and has been since 1940 (although the crosses weren't added 'til the early '90s).
Safe to say, most outwardly bold statements of Christian faith originate in the heart of someone who is inwardly allowing Christ to live in them.
As I rode through central Kansas thinking about the flood victims and ravaged towns to the east of me, I was listening to the letters of Paul on my Ipod. From Romans through I Timothy, I heard over and over the word love. The fruit of the spirit is love, the love of Christ and the love of the Father through Christ, and I see the hill and I get a better perspective on things.
Christians are bold for Jesus Christ becase they love Jesus. But, moreover, they are bold for Christ because in Christ they really love their neighbor.
They love their neighbor enough to care about their present, enough to rush to the aid of folks having to abandon their homes and towns that are under water in eastern Kansas right now.
They love their neighbor enough to care about their neighbor's future, and the choice their neighbor has to make about his eternity with or without their Savior and Creator.
To learn more about what it means to be a Christian, click here.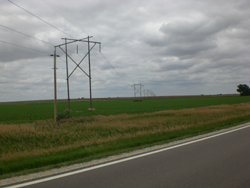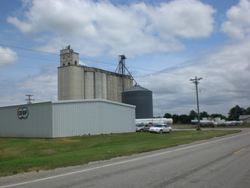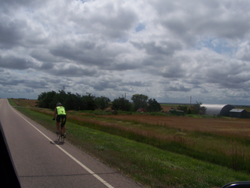 PS: I could tell I was more than half way home today when I spotted for the first time on this tour what looks to me like a Live Oak Tree (pictured above). That was a big deal. With over four weeks in the land of neverending Christmas trees, desert, mountains and the plains, I had yet to see anything that looked like home, until today. We'll be in Missouri in a few days and our date with the Atlantic Ocean on July 25 starts to look a little closer.

<<< [ Jul 1 ] | [ Jul 2 ] | [ Jul 3 ]>>>
<<< Back to Detailed Route