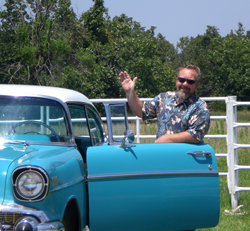 Day 34 - Boliver MO to Marshfield MO, 53.4 miles, 3:26

About halfway through my short, 53-mile day into Marshfield this perfect Saturday afternoon, I turned left onto Hwy 38, and as I had been doing all day, I got up out of the saddle and began another steep ascent up another short hill. But, this hill was different.
Travis Taylor pulled his '57 Chevy up his driveway and through the gate. He got out of the car and crossed the highway to check his mailbox (which is on the other side of the street from his home) just as he probably does every other Monday thru Saturday. Only today, he crossed right in front of me.
"Hey, man," I figured since you crossed my path today that I should stop and hand you this," I said, handing him one of our crosses. "I am riding across America because I want you to have that."
Taylor smiled and welcomed the conversation. "Do you need anything," he asked? Cold Water?" I thanked and let him know that I had only a short way to go and wished him a great morning.
He passed me about a mile up and stopped and got something out of his trunk. As he was walking back toward me, smiling, he said, hey I hate to stop you short of another big hill but I wanted you to have this. He handed a me a CD of some country and bluegrass songs he had written.
"I just wanted share something with you," he said.
I thought the rest of day about what Taylor had done and what he said: "I just wanted to share something with you."
Thanks, Travis. I appreciate that. If we didn't share our lives with others, what would our lives be? What good would we be?
I believe that most people are innately good. We are created in God's image. When we receive a gift, we just want to return one. When we receive a smile, we give one back. When we receive love, we love.
You notice the trend there? Someone has to give first.
Christ loves you, so much that He allowed Himself to suffer a horrible death on the cross as the replacement for your sins, as your reconciling sacrifice to God Almighty.
If you return a gift with a gift, and a smile with a smile, how then do you respond to Christ, who came to Earth and died for you? Died for you.
In one of His last teaching points with the disciples, on the way to the Garden of Gethsmane, where He was handed over to the Romans, Jesus said:
John 15:12-17 (NIV)
My command is this: Love each other as I have loved you. Greater love has no one than this, that he lay down his life for his friends. You are my friends if you do what I command. I no longer call you servants, because a servant does not know his master's business. Instead, I have called you friends, for everything that I learned from my Father I have made known to you. You did not choose me, but I chose you and appointed you to go and bear fruit—fruit that will last. Then the Father will give you whatever you ask in my name. This is my command: Love each other.
This is Bob. He lives in Bolivar, MO, where he picks up the aluminum cans his neighbor saves for him and walks into town to cash'em in on Saturday mornings. That's when I rode by and handed him a cross. He said plainly, "I am Christian."
"Then I'll see you again," I responded and rode off.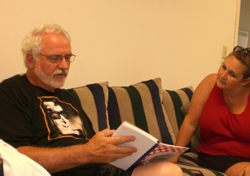 We met with Pastor Clyde of the Heartland Baptist Fellowship in Marshfield later in the afternoon. We really appreciated the visit. We felt instantly welcome and at home and can't wait to report back on the events of Sunday morning and afternoon.
Here are the rest of the up and down pix from this most unbelievably hilly part of the country: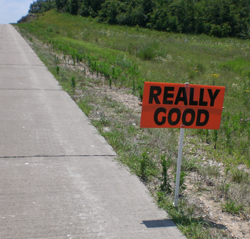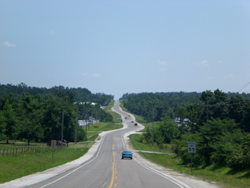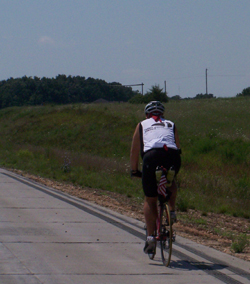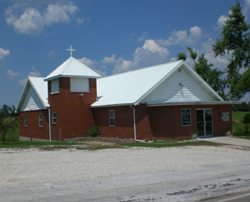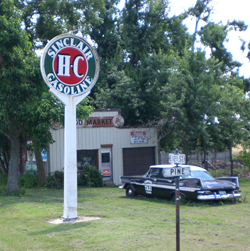 <<< [ Jul 6 ] | [ Jul 7 ] | [ Jul 8 ]>>>
<<< Back to Detailed Route