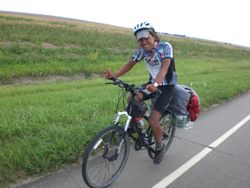 Day 27 - Leotti KS to Ness City KS, 75 miles, 5:35
He asked in his broken English, "So you are Christian?" Yes, I beamed, thankful for another at bat. I had just been listening to the book of Acts and thought immediately about King Agrippa's response to Paul's urging in chapter 26.
Acts 26:28-29 (NIV) Then Agrippa said to Paul, "Do you think that in such a short time you can persuade me to be a Christian?" Paul replied, "Short time or long—I pray God that not only you but all who are listening to me today may become what I am, except for these chains."
I had just a short time, but thanks to the fact that I live in the greatest country in the world, I have no chains and can share my faith openly.
My audience was not a king, but a young man named Pong (above). He's the winner of the the "Farthest Distance Traveled" award, as he's touring America via South Korea, riding self-contained from Oregon to Virginia.
And thanks to our encounter with him, he'll be taking the cross of Jesus back with him.
During our brief time together today at the very end of a 75-mile, typical headwind-torturing day, Pong was kind enough to answer a few questions.
Most interestingly, he said he's met a lot of Christians in the city parks he's been camping in along his eastbound route. "Christians and Police," he said with a smile.
Fitting, I thought, he's camping his way across the U.S. in city parks, and the people he's most familiar with are those who are out to protect him.
I think of Jesus, when he prayed for the disciples in John 17:11. He said, I will remain in the world no longer, but they are still in the world, and I am coming to you. Holy Father, protect them by the power of your name—the name you gave me—so that they may be one as we are one.
The power of the name Jesus will protect those of us who are still in this world, so we may be one with Him.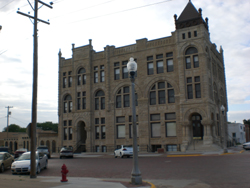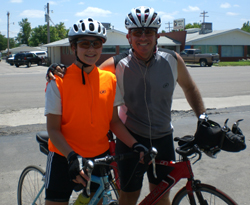 <<< [ Jun 29 ] | [ Jun 30 ] | [ Jul 1 ]>>>
<<< Back to Detailed Route