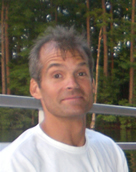 Day 46 - East Ellijay to Stone Mountain GA, 82 miles, 5:18
Sure, Stone Mountain is a great park, but we were a lot more excited to see that our back up had arrived. As my 82-mile blitz through rolling hills and suburban Atlanta came to an end, so did my days of riding solo.
Chris Hughes and Winston Edwards came to ride, and serve and glorify Jesus. Thanks to them for being with us and thanks to Chris's wife Kelly, who's home in Bradenton, FL. Thanks also to Winston's wife Rhonda, who's here with him.
Frank and Melissa Cagnina and two of their four kids also arrived today to spend the weekend on mission for Christ. Frankie the Barber is a life long friend and board member of Christ aCross America. Having him here to share a part of this time with us is an awesome blessing for our family.
Thanks to God for friends and family, and for all the blessings in our lives.
We celebrated Thursday evening at Stone Mountain campground with a great cookout and time of fellowship. It was awesome having friends to encourage and support us as we head into the final week of this tour.
Thanks to Danny and Emily MacDonald, to Brian Medley, to Jimmy Hughes (Chris's brother) and to my cousin, Brent Harris, for coming out.
The mission tour we've undertaken is multi-faceted, and it will be amazing for us to look back sometime soon on all the people who have touched us and been touched by the ministry God gave Connie and me to plant for Him this summer.
Note: God did not want me riding south on the northern-most section of US 19 / GA 400. So he sent an over zealous law enforcement officer to escort me off of it. First time I've ever been pulled over on a bicycle.
For the record, I still maintain that riding on that that section of the GA 400 was not in violation of any state or federal law. My officer friend thought different and was very vocal in telling me so. I just asked him if there was anything I could pray for him about. Sadly, he said no. I will pray for him anyway.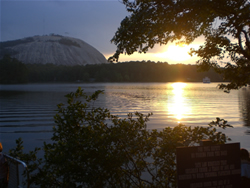 <<< [ Jul 18] | [ Jul 19 ] | [ Jul 20 ]>>>
<<< Back to Detailed Route