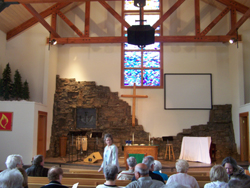 Day 14 - Worship in Yellowstone's Community Protestant Church
Thanks to Pastor Steve Lympus, his wife Laura, and the hospitality of the whole CPC congregation. We were so blessed to be in worship with the good folks of West Yellowstone this morning. And we appreciate every opportunity we had to be blessed and in some small way, maybe, be a blessing to others.
Pastor Steve's message on this Father's Day was from Isaiah 9:6 (NIV), which says
For to us a child is born,
to us a son is given,
and the government will be on his shoulders.
And he will be called
Wonderful Counselor, Mighty God,
Everlasting Father, Prince of Peace.
Often a verse reserved for Christmas sermons, according to Pastor Steve, but fitting for today that we would review the many names of our Father who would come to earth as a man to die for our sins.
The ministry of CPC reaching its community with that message through the deep roots of the many families who serve as year-round, full-timers. It is a different and much larger congregation in the summer though, as many part-time residents keep summer homes up here.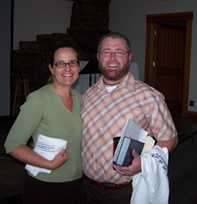 Pastor Steve (pictured below with Laura) is just 33 and only a year into his service as Pastor of CPC. We wish him much peace and growth spiritually as he seeks to follow God's will for his family, and for his church family.
The nature of the community in general seems very seasonal and obviously tourist driven. And while there are a few outreach initiatives into the tourist district and into the Park itself, those ministries are coming to West Yellowstone from the outside.
One example is A Christian Ministry in the National Parks, which sends multi-denominational volunteers into all the national parks to conduct worship services and to proclaim the Good News.
Another ministry we heard about was out of the local Baptist church, which brings college students up each summer to work the concessions area in the park and to use that work as a platform for witnessing to others.
The winters up here are still busy with snowmobiling and other winter activities, but with temperatures often sub-zero (for days on end), the summer opportunity for Christian outreach in West Yellowstone is a lot more capable of being mobilized.
The congregation of CPC is allowing Christ to use their ministry today and moving forward.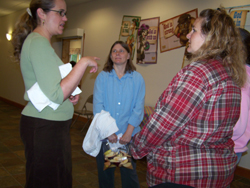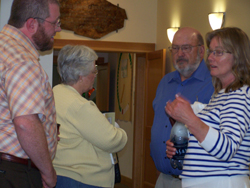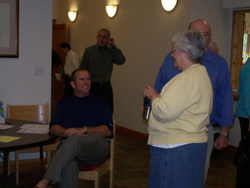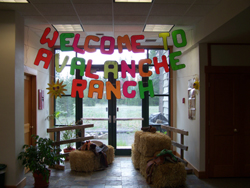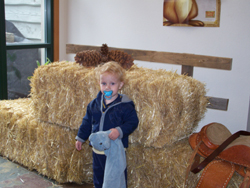 Here are some pix from our cold and overcast and even sleet-filled afternoon in the park: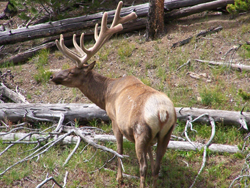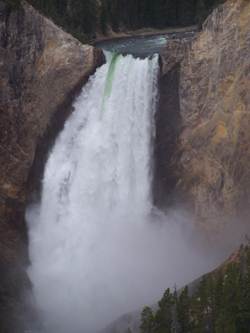 <<< [ Day 13] | [ Day 14 ] [ Day 15] >>>
<<< Back to Detailed Route