Day 13 - Ennis MT to West Yellowstone MT 74 miles, 5:01
Finally, on the last half of our ride from Ennis to West Yellowstone, we got to ride with some other folks: the Traveling Talbotts from Lancaster PA. Dad, Thomas, with his four girls from (L) Kate, 22, Val 19, Sheila 16, and Rachel 23. They are riding (self contained) from Oregon to New Jersey to raise funds and awareness for the Alliance Defense Fund, Defending our First Liberty. Our new friends are faithful followers of Jesus Christ and we are praying for their saftey and for the success of their cross-country ride.
Earlier in the day, we came upon Jim from New Hampshire. He too is riding self-contained from Oregon to Atlantic coast. Ride on Jim.
The ride into West Yellowstone was a long, gentle, 71 mile climb that took us from 5,000 ft elevation in Ennis to almost 6,700 ft in West Yellowstone. The last half of the ride (with the Talbotts) was every bit into a monster headwind. I am not sure, but they must have been 25 mph gusts blowin' us all over the place. Thanks to the Talbotts and their two tandems, I was able to tuck in and borrow a draft every now and then.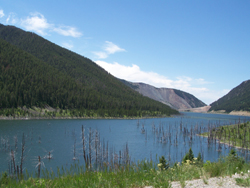 With just 10-12 miles left in the ride, we passed Earthquake Lake on Hwy 287. Those are the tops of dead, drowned trees you see sticking up through the water. The lake was created in 1959 when an earthquake sent half a mountain crashing into the river below. There is visitor center and memorial at the site where 28 folks lost their lives.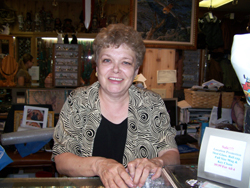 Once we got to the town of West Yellowstone, we met Sherian Reinsch, owner of The Cradleboad Gallery and Gift Shop in West Yellowstone. She is also a faithful believer, and she is asking for prayer that her new business venture would be profitable and fruitful in the eyes of the Lord.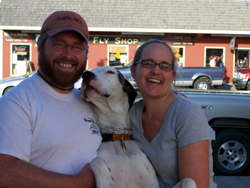 Later in the evening, we were able to meet up with Pastor Steven Lympus and his wife Laura. That's their dog Maynard pictured above. We will be setting up our Christ aCross America booth and worshipping with them tomorrow at Community Protestant Church.
West Yellowstone is an awesome western town, serving as the gateway to Yellowstone Park. We look forward to learning more tomorrow about how Christ is using his faithful followers to serve others in this area.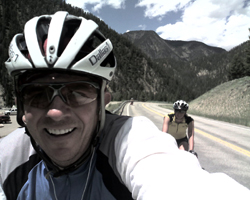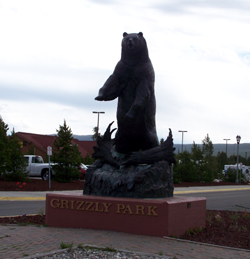 <<< [ Day 12] | [ Day 13 ] [ Day 14] >>>

<<< Back to Detailed Route