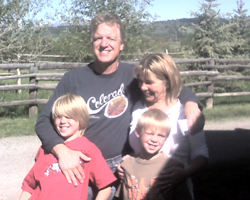 Day 16 - Grand Teton Park National Park to Dubois WY 51.9 miles, 4:23.
Thank you to Jim and Nancy from Cleveland, pictured here with their grandkids Caleb and Joshua. It's awesome that today, like yesterday, began in a circle, holding hand with folks from all over the country and giving thanks to our Lord Jesus Christ. Jim has a thriving ministry in Cleveland. It's his insurance agency. After thinking for years that God was leading him into full-time youth ministry, Jim heard God tell him to make his business a ministry for Jesus. Sounds like someone who should know about C12. Now Jim does. Good luck!.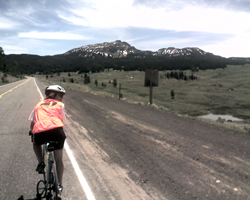 Today's ride with Casey took us out of the Tetons and immediately up a beautiful, 20-mile climb to Togwotee Pass, elevation 9,658. Casey's first climb was awesome with perfect weather and a slight tail wind. Great job Casey.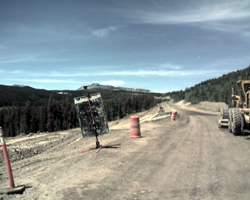 Once we got over the pass, we had a fast downhill run and then came upon this road construction project. After a few miles of riding down the gravel and hard-packed sand roads, we were stopped and escorted in the back of a pickup the four miles or so that they felt were unnavigable for cyclists. Thanks for the lift.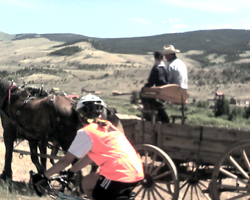 Once past all the construction, Casey and I had a super-fast, tailwind assisted downhill run into Dubois, WY, where we met Ben (pictured below).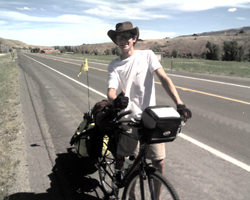 We got to pray with Ben, who just graduated high school in Fort Collins, CO. So what did you do with your high school graduation money? Ben is riding, self-contained, from Colorado to Alaska. Ride on Ben. Proverbs 3:5-6 says...
Trust in the LORD with all your heart
and lean not on your own understanding;
in all your ways acknowledge him,
and he will make your paths straight.
<<< [ Jun 18] | [ Jun 19] [ Jun 20 ] >>>
<<< Back to Detailed Route