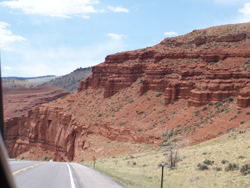 Day 17 - Dubois WY to Lander WY, 78.7 miles, 5:00
The road for Steamboat Springs just got a lot hotter; try 92 degrees in the Wyoming desert into a 30-mph headwind for five hours. No biggy, when you remember why you're here.
Think about it. Plenty of amateur athletes and fitness fanatics would head out for a training ride, see those winds and pack it in. Others wouldn't. They would train anyway. Rain, cold, wind, whatever. It's a commitment factor.
The rain and cold, the climbs and the wind have all added to the character of a tour like this. But it's the character of the people we are most interested in.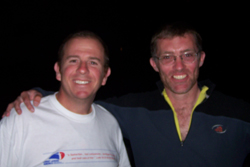 Take Julius for example. He lives in England. And his first glimpse of our great land is a Yorktown, VA to Portland tour by bicycle. He's carrying all his gear on the bike and camping along the way. That's where I met him and was blessed to have spent an hour or so learning just how much we have in common, even though we live a world apart.
We are seeing a lot of riders along this Yellowstone-Colorado section of the TransAmerica Trail. The common ground we hope they all find with us is our relationship with Jesus.
Here are some pix from the day: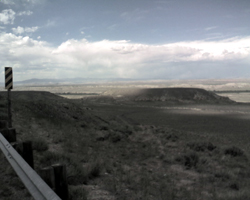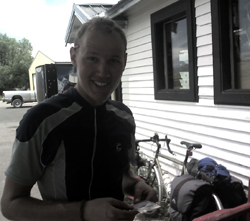 <<< [ Jun 19 ] | [ Jun 20 ] | [ Jun 21 ] >>>

<<< Back to Detailed Route