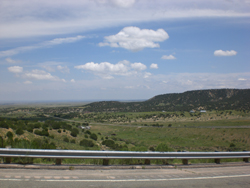 Day 24 - west of Canon City to Fowler CO, 92 miles, 5:31
Saying goodbye to the mountains and hello to the flats... That's the last decent down out of Rockies into Pueblo pictured above (R). And after three and a half weeks in some of the most beautiful mountains in the country (from Washington State through Idaho, Montana, Wyoming and Colorado), we head for the plains of eastern Colorado and Kansas.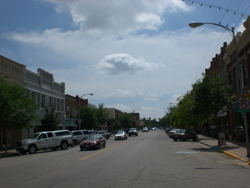 Our convenient store ministry started today in Canon City (pronounced Canyon), home of the world famous Royal Gorge Bridge and Park (R). From there, we passed an infamous maximum security Federal prison between Florence and Wetmore, CO. It's a 23-hour per day solitary confinement kind of place where I hear Timothy McVay was sent to await his death sentence.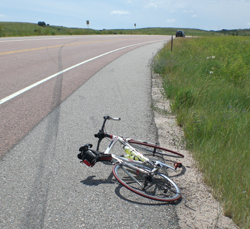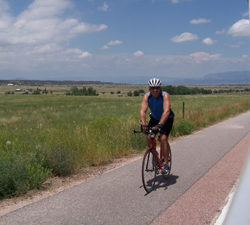 Speaking of death sentences, it's funny, but I was planning on breaking out the tri-bike tomorrow as we set out for the flats of eastern Colorado and Kansas. I didn't expect to have to break it out today. You can't really tell from the photo to the left, but the Christ bike had a major mechanical mishap, when the rear derailleur got caught up in a spoke, broke in half, and was literally ripped off the bike.
I kind of saw it coming, as my chain was bouncin' all over the front sprockets all morning. I thought it was a front derailleur issue and only found out later that the culprit was a bent rear derailleur hanger that put the rear derailleur in a cock-eyed and obviously vulnerable position.
Props to Vance's Bike Shop in Pueblo for a quick turnaround. But, the real props again go to God, as we see Him looking after us in so many ways.
We've encountered one after another situation where God, either through a person or other circumstance, has just protected us and provided for us.
It's no different than the way He looks after us in our "normal," every day lives back in Temple Terrace. It's just that out here, with all the uncertainty and sometimes downright scary situations, you really, really notice His hand a lot more.
It's a recurring theme, but our "mission trip" is revealing to us as much about ourselves as we are learning about others.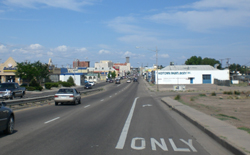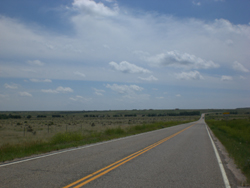 That's downtown Pueblo (L) and the plains to the east of Pueblo (R).
After another five and half hours into a Colorado headwind, we ended the day in Fowler, CO. It's one of those don't-blink towns where the post office, the bar and the one convenient store seem to comprise the whole downtown area.
Well, we needed ice, and I walked over to the "Loaf and Jug" store across from our RV campground. That's where we met Sheila. And, thanks to our t-shirts again, we struck up a conversation about our ministry.
You may remember our photo of the little "Cowboy Church" on the roadside back in Virginia City? I didn't know it at the time, but the "Cowboy Church" must be some kind of organized effort out here. I need to learn more, but was pleased to hear from Sheila that their Cowboy Church meets on Tuesday nights and is drawing over 200... you guessed it, Cowboys.
Based on what we've seen out here in these small towns, that's just incredible. Having 200 people in a Cowboy Church in Fowler, CO on a Tuesday night is awesome. Amen.
<<< [ Jun 26] | [ Jun 27 ] | [ Jun 28] >>>

<<< Back to Detailed Route