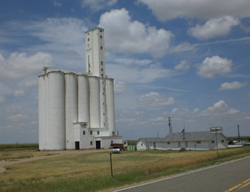 Day 25 - Fowler, CO to Eads, CO, 79.2 miles, 4:59

I was 60 miles into today's run though the flats of eastern Colorado when I stopped at a gas station in Haswell. I sat down on the ground out front with the flies and the dust and my oatmeal raisin cookie and my Diet Coke and thought, now that's a great breeze... when you're sittin' down at the gas station, I mean.
The rest of the day it was the same 15-to-20 mph headwind I've been dealing with for weeks it seems. I guess you can get used to just about anything.
The biggest difference in riding the flats (aside from lovin' the aero position on the tri-bike) is that you don't coast. For three and half weeks I've been doing the old climb-and-coast routine through the mountains. Out here, you just pedal, and with the headwind, you don't dare stop or you're blown to a complete halt in a matter of seconds.
I am not sure why that is significant other than the way it relates the character of the plains and its people to me. These folks are grinders. They don't ever stop. They are farmers with generations in these small towns. They've got roots.
Today, I saw Fowler (pop. 1,200), Ordway (pop. 1,200), Sugar City (pop. 279), Haswell (pop. 84) and Eads (po. 747), where all four churches in town are on the same city block, across the street from the high school and the community pool.

Just for reference, Temple Terrace, FL (my home) is a suburb of Tampa with 23,000 people. Within our city limits, I count at least 22 local churches.
I wonder if anyone will show up at one of those this Sunday in a John Deer hat, with a plaid shirt, blue jeans, work boots and with his pliers in a snappy leather holster on his belt. That's what our friend in Eads, CO wore to dinner tonight at the diner across from our motel. I wonder what he wears on his belt when he's really working.
I'll bet it's his pride.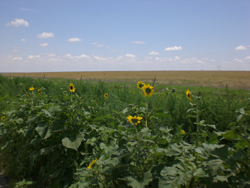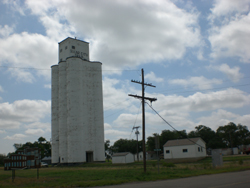 <<< [ Jun 27] | [ Jun 28 ] | [ Jun 29]>>>
<<< Back to Detailed Route