Day 5 - Coulee City WA to Reardon WA - scrapped after 35 miles in 2:49
The stomach flu and nausea finally made cycling though the plains of eastern Washington a mostly unbearable experience.
At least in Florida, you can find a tree when you need one. Not here. Connie was en-route to Spokane, so I phoned and asked her to rescue me.
We are sad to have missed some pavement, but will use the time to prepare for this weekend's ministry happenings Saturday and Sunday in Kellogg, ID.
Can't wait for tomorrow to be able to ride with the kids on the paved trails of Spokane and Idaho.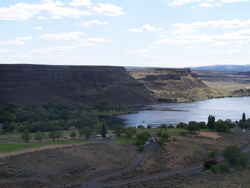 <<< [ Day 4 ] | [ Day 5 ] [ Day 6 ] >>>