Day 6 - Spokane WA to Kellogg ID, 80 Miles (mostly on trails)

The Spokane / North Idaho Centennial Trail was eveything we thought it would be and more. Casey, Cara and Carter rode the 25 miles from Spokane into downtown Coeur d'Alene; a beautiful city.
Special thanks to David from Spokane for showing us how to work the old-fashioned water pump at the state line. Thanks to God for placing David in our path. He is from a church in Spokane that has an outreach into China that we look forward to learning more about.
After lunch at Roger's Ice Cream and Hamburgers (where we met some awesome folks and passed out more tee shirts), I headed out into the cold and rain again on the Trail of the Coeur d'Alenes; where I spent the next two hours racing for our campsite in Kellogg. And wouldn't you know, some 30 miles later, I finally figured out I had been traveling in the wrong direction the whole time (don't ask). So much for careful planning.
I turned the Christ aCross America bike around, flew back toward Harrision, made it just before dark and learned why all that had happened.
Harrison is a really old, historic, small town on the lake front, where the marina / bar type business was the only place open where I could dry off and sit and wait for Connie. So, I found the porch seat in font of the coffee house next door to the bar and sat.
As the band belted out old Aerosmith and other classic rock tunes, a couple of the bar maids stepped outside for a cigarrette.
They noticed me sittin' there soakin' wet and freezing cold and after a short talk asked me "why are you doing that?" about our cross-country endeavor.
"Well," I said. "His name is Jesus Christ and He is the Lord of my life."
You never know when you'll make a wrong turn or end up in the wrong place only to have God make it the right place. Reminds me of the scripture on our home page. Jesus said: "What do you think? If a man owns a hundred sheep, and one of them wanders away, will he not leave the ninety-nine on the hills and go to look for the one that wandered off? And if he finds it, I tell you the truth, he is happier about that one sheep than about the ninety-nine that did not wander off. In the same way your Father in heaven is not willing that any of these little ones should be lost. Matthew 18:12-14
I think also about the story of the Prodigal Son in Luke 15, and both stories remind me how important it is for that one person to find the Kingdom. Mission work is all about investing your life in others; and you don't have to be on a mission trip to do that.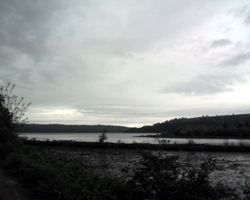 <<< [ Day 5 ] | [ Day 6 ] [ Day 7 ] >>>
<<< Back to Detailed Route