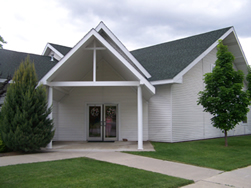 Day 7 - worship in Kellogg ID
Ministry Showcase: First Baptist Church of Kellogg, Pastor Sergio Rivera and his wife Kathy and daughters Rebekah, and Hanna (and son Josh, who is off in college).
It's the Silver Valley in the Idaho panhandle east of Coeur d'Alene between Cataldo, ID and Mullan, ID. It's about 30 miles long and it's home to small towns like Pinehurst, Kellogg, Osburn, Wallace and Mullan. The mountains border the valley to the north and the south, leaving only a sliver of land that was developed in a real gold rush back in the 1880s. It was really a silver rush, hence the name Silver Valley.
Now, though, the mines are closed and many of the folks who are still here just haven't found a way out. It's the most unchurched region in the country, according to Pastor Sergio Rivera of the First Baptist Church of Kellogg.
He and his family moved to the northwest from southern California seeking the next chapter for their ministry and what they found pretty much amazed them.
"If you are a Christian in this valley, you are definitely in the minority," he said from his home Sunday afternoon. "It's about 93 percent unchurched. I am talking about an area where your grandmother, and her grandmother just didn't raise you and your family in the church."
It's just the opposite, he said, and took a step further by suggesting that many families in this region seem to have fallen into generations of apathy toward just about everything, especially church.
We were blessed to be amongst the 15-to-20 folks in worship Sunday morning and even more blessed to be able to visit with Pastor Sergio and his wife Kathy and family after service.
We learned that Pastor Sergio is supported through a parent church in Spokane (I believe) which, like many larger churches to the west, view the Valley as a mission / outreach opportunity. And it is.
"I have been a missionary to Hawaii and Baha Mexico," Pastor said. "I have worked in Blythe California on the Arizona border in the middle of the desert, and never have I seen a more spiritually dark area. It's incredible."
In fact, Pastor mentioned that Peretti's, This Present Darkness, a famous novel about a dark valley, might actually have been about the Silver Valley. "Peretti is from around here and still lives here," Pastor said.
He and his wife are starting over in their small church in Kellogg. There were Chuck and Ninette, Jack and Gladys, and another Chuck who drives a truck. These folks are the heart of a ministry that is searching for a revival.
The drug and alcohol use among the youth (and every other age group) in the region is rampant, and the body of First Baptist Kellogg is gearing up to reach those youth and their families for Christ.
They need our prayers and support. Christ aCross America is in.
We have begun Web site for the church for starters and really want to bring other ideas and resources to Pastor Sergio and his church family. Please email us with any of your questions and suggestions.

Pastor Sergio and Kathy can be reached as follows:

First Baptist Church of Kellogg
Pastor Sergio Rivera
507 W Brown Ave.
Kellogg ID 83837
(208) 783-2484
<<< [ Day 6 ] | [ Day 7 ] [ Day 8 ] >>>
<<< Back to Detailed Route