Day 8 - Kellogg ID to the MT 200 east of Thompson Falls, 75.6 miles, 5:22.
After taking Sunday off for worship and rest, we were back after the cross-country route Monday morning.
It would be just two more days to Missoula, where we pick up the proven route maps published by Adventure Cycling.org. Just two more days relying on Yahoo maps, and I had directions in hand: Trail of the Coeur d' Alenes to Mullan 13 miles to L on Larson Rd. to R on the Yellowstone Trail 10 miles to R on NF-70089 15 miles to L on NF-7 12 miles and that's it.
Looked great on the computer. What's more, we knew those back and forth lines meant climbing, so we planned a short 50-mile day to Thompson Falls. Sounded great, right up to the point where you find out the Old Yellowstone Trail and NF-70089 and NF-7 are unpaved mountain utility roads. They start out as hard-packed sand and slowly turn into billy goat paths zig-zagging up to 3,500 ft and back down again.
Worse yet, they are pretty much unmarked, and you guessed it, I take a wrong turn and end up 100 percent lost in the Idaho / Montana mountains, on a Trek Madone road race bike to boot. Not good.
But God is good, and thankfully, my wrong turn actually led me back into civilization within a half hour or so. I have never been happier to see another human. I was back at I-90 three miles east of exit 10, Saltese, MT, population 24.
Please forgive me for another "wrong turn" message, but I really wonder if I had stayed up in those mountains... well, you can think about a lot of stuff, and all the while you try to remind yourself to trust God completely. Using a little common sense doesn't hurt either.
The really cool looking roadside bar and grill (and casino) didn't hurt either. I strolled in for a diet coke and got my alternate route to Thompson Falls from my new friends (pictured below).
That route was I-90 east 20 miles to St. Regis, where I picked up (in addition to two flat tubes, caused no doubt by my off-road escapades) a 21 mile stretch of Montana paradise. It's Hwy 135 headed north along side a beautiful river, and with the sun shining bright, I had a real peace about Big Sky country. It's definitely God's country. Amazing.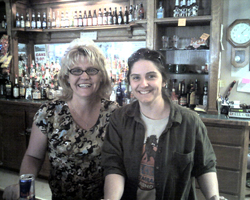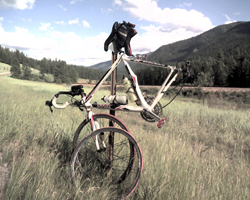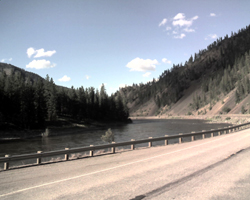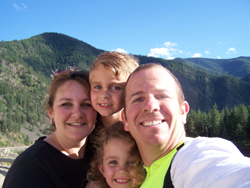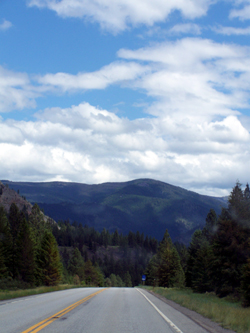 <<< [ Day 7 ] | [ Day 8 ] [ Day 9 ] >>>
<<< Back to Detailed Route