Riding through the Bitteroot Valley, home to ranchers, farmers and high-tech log home manufacturers
Day 10 - Missoula MT to Sula MT 95 Miles, 5:33.
With overcast and cool conditions, our 95 miles fom Missoula to Sula was pretty flat and almost entirely downwind. For the first time it seems in the whole tour, we were able to hold speeds over 20 mph consistently, and cover a pretty long distance in just five and a half hours.
That's a lot faster than the Lewis and Clark expedition made it through this valley over 200 years ago. They were, in fact, the first white men to ever encounter the native Indians (the Flatheads and Nez Perce among others) in the Bitteroot Valley south of Missoula.
The natives to this valley today are ranchers and farmers; neighbors all from one end of the valley to the other. It made the ride so enjoyable to travel from small town to small town, most eight to ten miles apart, and never really experience any void between them. Every mile or so, a different horse rancher, goat and cattle rancher is flying his flag and his piece of the American dream.
The Lewis and Clark trail even shed some light on the history on the church in this area, as the Flathead tribe sent four different delegations to St. Louis in 1831 requesting one of the "black robes" (Catholic Priests) to come and teach them. In 1840, their request was granted. You can still see the old Mission at Fort Owen in the middle of the valley.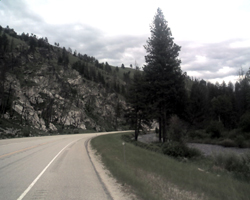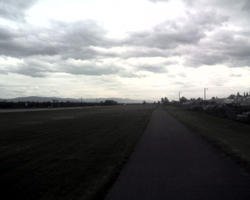 <<< [ Day 9 ] | [ Day 10] [ Day 11] >>>

<<< Back to Detailed Route