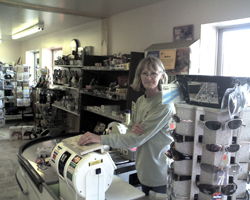 My new friend owns the country store in Wisdom MT (pop. 100) on the east side of the Big Hole Valley.
Day 11 - Sula MT to Dillon MT 99.9 Miles with three major climbs in 6:32
So, if you read yesterday's report, you read how pleasantly surprised we were to be able to ride the 90+ miles through the Bitteroot Valley and never, ever feel alone, or like we were out in the middle of nowhere. And then there was today.
Imagine climbing first thing in the morning from around 4,000 ft in Sula over a mountain pass at 7,300 ft and arriving back down at around 6,000 ft in the Big Hole Valley, a vast, flat plateau of cattle and haystacks, and a whole lot of open space bound by moutain ranges on all sides. No towns, no traffic, no homes, for miles and miles in all directions.
This is not to discredit the awesome ranchers and farmers who are in the valley. It's just that you hardly see them, even at 16-20 miles per hour. Cattle and hay.
The Valley is in fact famous for hay, calling itself "Valley of Ten Thousand Hay Stacks." It is also known for a battle that took place August of 1877 where almost 100 Nez Perce were killed by U.S. Army troops. This was one of the many battles of the Nez Perce War of 1877, but remains on record as one of the bloodiest.
I will remember it most (aside from the three punishing climbs) for my stop in in Wisdom, MT, population 100. The nearest Home Depot is 140 miles away in Missoula. Imagine that for a minute, while I tell you about my lunch.
I enjoyed a cup of coffee, a banana and some trail mix at the local store. I just sat and watched the locals come in and out, "hello and goodbye," and I think about how Christ is reaching people out here; way out here.
There are two churches, according to my friend at the counter. So I did some math, 100 people, two churches, that's pretty good, I thought. And, then it's off again. The visit seemed too short.
I can only hope the crosses I am handing out are finding the hands of those who will seek the will of God in their lives and seek to serve Christ in their communities. I will be praying for Christ to live in the hearts of the people in Wisdom, MT. Please join me in that effort.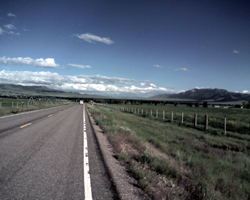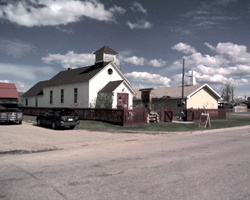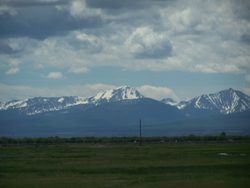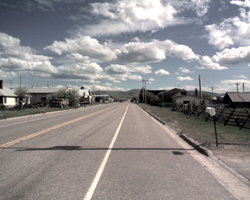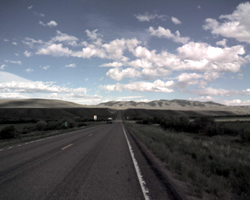 Connie ran into these dudes in Sula and again in Jackson. They flew into Portland and are riding home (self-contained) to Connecticut, averaging 50-to70 miles per day. From (L), Zack Storms, Ted Paulus and Fowler Storms. Ride on brothers.
<<< [ Day 10 ] | [ Day 11 ] [ Day 12] >>>

<<< Back to Detailed Route